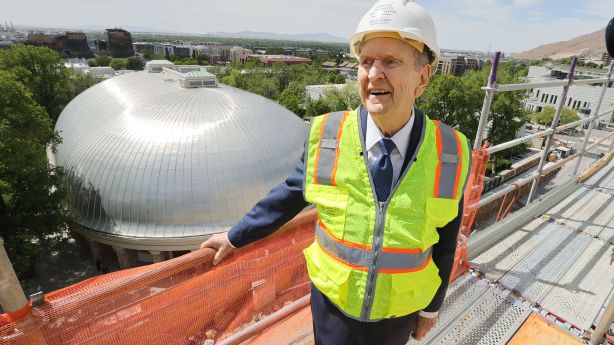 The name of The Church of Jesus Christ of Latter-day Saints has been given by direct commission from God, said Elder Neil L. Andersen of the Church's Quorum of the Twelve Apostles, opening the penultimate address of the Church. October conference.
So why choose now to focus on the name, as President Russell M. Nelson has done for the past three years?
"Now is the time for us to restore the revealed name of the church," he said. "The fate of The Church of Jesus Christ of Latter-day Saints demands that we be called by name."
The general conference has been broadcast in 55 languages, will ultimately be translated into 97 languages, and will be distributed in one form or another in 220 countries and territories. The words of church leaders will be sent to "every nation, people, race, and culture in the world," Elder Andersen said.
"We will not be moved from our place," he added.
Even Christians who embrace church members will view church members as friends by being "called by the name of Jesus Christ," Elder Andersen said.
The re-emphasis on the church's name also spawned several technology and search engine optimization battles. Elder Andersen said the church had hoped "for years" to buy ChurchOfJesusChrist.org and ChurchOfJesusChrist.com, but none were available – until "around the time of President Nelson's announcement."
"It was a miracle," he said.
#ElderAndersen | # General Conferencepic.twitter.com/BZMw2vGKZZ

– LDS Living (@LDSLivingMag) October 3, 2021
It started a massive shift in branding, both online and in the real world, changing the name of the Mormon Tabernacle Choir, LDS.org, LDS Business College and more.
"Over 1,000 products with the 'Mormon' or 'LDS' name have been changed," said Elder Andersen. "Latter-day Saint faithful have adapted their websites, podcasts and Twitter accounts. "
He also thanked the "responsible media" who responded to the request and desire for the church to be called "by our name for nearly 200 years".
"The name of the church is not negotiable," he repeated. "Realizing that sometimes restoring our correct name from a nickname can be difficult, let's move forward in faith, remembering that we are restoring the name of Jesus Christ. Let's be purposeful with ourselves and patient with others."
– Sean Walker