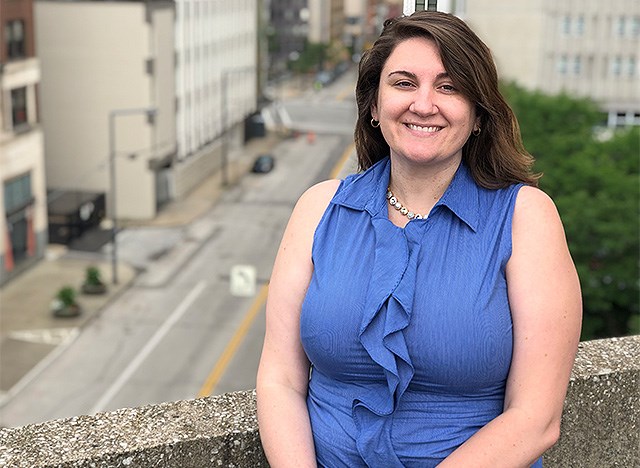 Also among today's business updates: Youngstown and Mahoning County Public Library; Youngstown / Warren Regional Chamber; The Youngstown Foundation; Youngstown Rotary Club; and the AAA East Central Gas Price Report.
YOUNG TOWN – Houck Agency, 25 E. Boardman St., hired Ashley Fox as a content specialist.
Fox's role with Houck Agency will include writing, media relations and customer service.
Fox previously worked for The Vindicator and Tribune Chronicle. Prior to that, she wrote for newspapers in Medina, Ohio, and Polson, Mont., The latter of which she also oversaw social media and helped write. She also has experience in marketing and management.
"Ashley's writing, reporting and interviewing skills will fit well into the writing, content marketing and media relations work we do, which is not just our greatest. strengths, but the fastest growing segments of our business, "said Jim Houck, president, in a press release.
Fox graduated from Chaney High School and received her bachelor's degree in telecommunications in 2009 with a minor in journalism from Youngstown State University.
"Working with Houck Agency will allow me to apply years of honed communication skills to better serve our clients," said Fox. "It has always been a goal to work in the city where I grew up, and being based downtown as Youngstown continues to transform has been a dream come true."
PLYMC appoints new Chairman and Vice Chairman of the Board of Directors
YOUNGSTOWN – Carole Weimer and Thomas Frost have been chosen respectively as the new chairman and vice-chairman of the board of directors of the Youngstown and Mahoning County Public Library.
Weimer was vice chairman of the board and was elected chairman following the death of longtime chairman of the board, David Ritchie, on July 9. Frost was elected to fill the vacant vice president seat. Weimer and Frost will serve unexpired executive terms until January 2022, when an election will be held at the annual board meeting.
"We will all be missed by Dr. Ritchie and the wonderful leadership he has provided to this organization," Weimer said in a press release. "So it is with a heavy heart that I enter this role. As the new chairman of the board, I am committed to helping the library continue the good work it does in this community.
Weimer joined the board in 2015 and was elected vice president in 2018.
"It is an honor to serve on the board of trustees of this library," said Frost, who joined the board in 2011. "Take a leadership role following someone like Dr. Ritchie , and to be brought up because of his death, is very humiliating and dark. However, we will continue. "
Library Director and CEO Aimee Fifarek said Weimer and Frost "served the board well during their tenure" and are "worthy successors to Dr. Ritchie's legacy."
The regional chamber and the foundation launch a new Lunch & Learn series
YOUNGSTOWN – The Youngstown / Warren Regional Chamber and The Youngstown Foundation are launching a new Lunch & Learn series to spark community reflection and discussion on some of the most important topics for the Mahoning Valley.
"This series will provide an opportunity for non-profit industry and minority-owned businesses to share the regional chamber's wealth of networking and professional services," said Lynnette Forde, President of the Youngstown Foundation, in a statement. Press release. "Nonprofits play a vital role in the health and vitality of our community and therefore deserve greater attention and philanthropic support. "
The monthly series will include topics focused on public health, opportunities for minority businesses, the role of philanthropy in economic development and more.
The first program, "Arts & Culture: Driving Our Economy", will be held from 11:30 am to 1 pm on August 17 at DeYor Performing Arts Center, 260 W. Federal St. A panel discussion will include
Angela Meleca, executive director of the Ohio Citizens for the Arts, and Dan Katona, deputy director of the Ohio Arts Council, among others, who will discuss the role that arts and cultural institutions play in – and the direct impact that 'they over-run the state and the economies of Valley.
Lunch is open to the public and the cost is $ 10 per person. To register, click here.
"It is important in every community that philanthropy and business forge new relationships so that together we can increase economic prosperity and improve the quality of life for all," said Guy Coviello, President and CEO of the regional chamber.
For more information, contact Kim Calvert at [email protected] or 330-744-2131, ext. 1235.
Regional Director of the House Foundation to speak at a Rotary meeting
YOUNGSTOWN – Mike McGiffin, the new director of Regional Chamber Foundation, will speak at the Youngstown Rotary Club lunch today at the Wick Park Pavilion, 260 Park Ave.
Lunch will start at noon and McGiffin's presentation will start at 12:30 p.m.
McGiffin, from Poland, is responsible for overseeing all aspects of the foundation, which supports economic development projects in the Mahoning Valley.
McGiffin holds a bachelor's degree in business administration and a master's degree in education, both from Youngstown State University. He was recently hired by Allegheny's middle unit as a project manager, guiding its OnRamp to Remote Learning initiative – the education agency's response to the challenges and constraints COVID-19 was placing on its 42 school districts. He has also served as Director of Strategy for the Stambaugh Auditorium and Director of Events and Special Projects for the Town of Youngtown.
Gasoline prices rise 12 cents in Northeast Ohio
YOUNGSTOWN – The average price of gasoline in Northeast Ohio is 12 cents higher this week at $ 3.08 per gallon, according to the AAA East Central gas price report.
The average price of self-serve unleaded gasoline in the Youngstown area is $ 3.04 per gallon.
– Do you have a commercial ad that you would like to share? Send an email to [email protected]